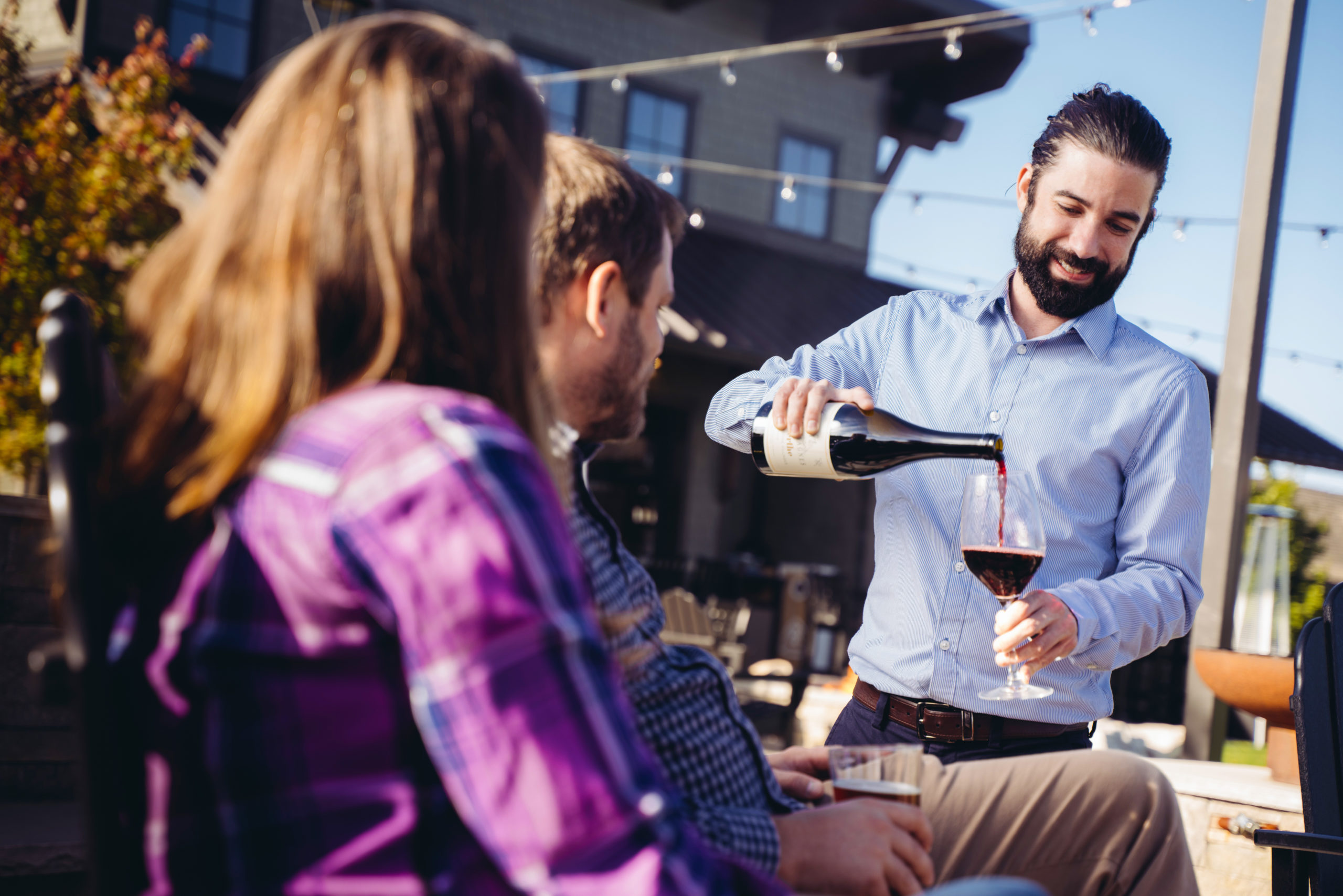 As a Level 2 Sommelier for Blue Ridge Mountain Club, I get to enjoy the most amazing vantage point for beautiful landscapes and sophisticated wine. There are no better pairings than these two elements.
Each season in the mountains brings a special kind of beauty and grace. I believe that finding a glass of wine for a season is similar to pairing a meal with wine.
With the warmer weather now here, it's time to get out and enjoy the beauty of the mountains. Camping is one of the best ways to relax and connect with nature after being cooped up inside. Picture yourself away from all the craziness of life, enjoying the peace that only nature can bring, and holding the perfect glass of wine.
Personally, I love making campfire meals by wrapping meat and vegetables in tin foil, adding seasoning, and letting the fire do all the work. If I were to choose a wine to drink during a BBQ meal cooked over a campfire, it would have to be a bottle of Melka "CJ" Cabernet from Napa Valley, California. This bold yet velvety smooth Cabernet has a beautiful bouquet of ripe black raspberry, black currant, fresh-baked cherry pie, and rose petals. It is a crowd favorite and also a perfect pairing for most campfire braised meats. Just don't get too spicy with it!
If camping isn't relaxing for you, maybe you'd rather recline in a rocking chair surrounded by good friends. A porch or patio allows you to bathe in the beauty without having to leave your home, plus it keeps you close to your wine selection. For those times, grab a bottle of Chateau de Beaucastel from Chateauneuf-du-Pape, France. Chateau de Beaucastel's spectacular 13-grape blend from Chateauneuf-du-Pape creates a full-bodied, leathery, and savory wine with stunning notes of red raspberry, bing cherry, and dried herbs. This wine is a wonderful example of how hard work, time, and passion can create something beautiful—just like long-lasting friendships.
Sometimes the best views require a little hike. The High Country offers some of the best hiking opportunities in the U.S., and you don't have to be a seasoned backpacker to discover spectacular mountain views. For leisurely hikes, I suggest the Domaine de Fontsainte Gris di Gris from the hilly and somewhat mountainous area of the Corbieres appellation in the Western Languedoc region of France. It is a wonderfully crisp, lightly pressed, rosé style blend made from Grenache Gris, Grenache Noir, Mourvèdre, Cinsault, and Carignan. This Gris de Gris's higher acidity, beautiful notes of fresh-picked red fruits and underlying clean minerality pair perfectly with an easy to pack, picnic Charcuterie plate of prosciutto, salami, soppressata, fresh fruits, cheese, and crackers.
This summer, I hope you're able to enjoy the amazing views in the High Country around you, coupled with these wine recommendations.
Joshua Purdy is a Level 2 Sommelier.
He is Clubhouse/Food & Beverage Manager at the Blue Ridge Mountain Club in Blowing Rock, NC. Aside from the ability to work with different wines and culinary pairings every day, he loves interacting with the residents of the community and expanding the wine list.